vintage wedding rentals in rapid city
it seems you can't throw a stick at a wedding lately without finding something vintage. whether it is the multi purpose mason jar that is being incorporated into everything from light fixtures to drinking glasses or the organic texture of burlap, the buzzword for wedding decor right now is vintage, vintage, oh, and did we mention vintage?
left: the MOB makes jams so what better guest favor? we just happen to have a 1945 monarch stove that was the perfect jam display.
ps. it was strawberry rhubarb - YUM!
vintage centerpieces can incorporate anything - as long is it is old! table 4 decor rents vintage mason jars - clear and blue, old tins, cheese boxes, cigar boxes, milk glass, retro cameras, books, wood cookies, record players, tractor gears - we can't even name all the vintange items in our inventory - and we are adding to it every day (our designers have resources, never you mind where.....)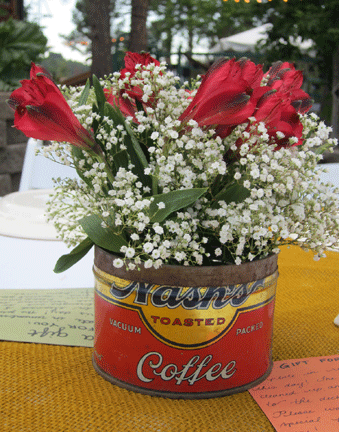 look - a milk glass lamp ----->
turned centerpiece
how clever is that?
if you are planning a vintage wedding and looking to DIY, use us! abuse us! table 4 decor's carefully collected vintage inventory combines your own unique elegance with the ease of rental. our design team has been collecting pieces for years and in our experience, our rental inventory and pricing will stretch your vintage wedding dollar MUCH further than if you went an found it all yourself. so visit our showroom today to find out how our inventory can enhance your perfectly detailed vintage rapid city wedding.
#vintagerental #custerstatepark #sylvan #weddingrental #rusticrental #masonjarcenterpiece #rapidcity #table4decor #vintagecenterpiece