charge! forward with charger plates
ever wondered about charger plates? what are they and let's be perfectly honest, WHY?
the answer for our times - it is an additional design element to your tabletop design. but charger plates have been around for hundreds of years. in formal dining service of days past, all the dishes used for the dinner would be placed atop the charger, then removed just before food service began. the charger would remain in place and each course is served atop the charger
... except the dessert course - never the dessert course.
just as all utensil and china placement on a table means something, the dishes stacked upon the charger tell the guest how many courses they will be eating. remember, formal place settings not only look nice but also give a non verbal cue as to what the evening has in store. if i see a place set with three wine glasses and three forks - i have a culinary treat in store for me.
at table 4 decor, we rent 10 styles of charger plate and are constantly adding to our inventory as clients bring us new and fresh ideas.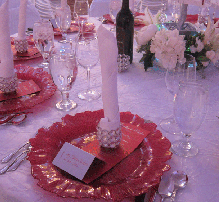 call table 4 decor today and find out how our rental chargers can make your next tabletop pop!
#chargerplaterental #weddingdesign #rapidcity #spearfish #southdakota #blackhills #tabletopdesign #chinarental #glasswarerental